The 3RD AICAD INVENTION,
INNOVATION & DESIGN (IID) 2019
The 3rd Art and Design Invention,Innovation & Design Show 2019 (AICAD IID 2019) is a competition to celebrate the students and professional participants that have utilized innovation and creativity in art and design products. The competition is also organized as part of the Asia International Conference Art and Design (AICAD 2019). Universitas Multimedia Nusantara, Jakarta Indonesia together with Universiti Teknologi MARA (UiTM) Perak Branch, Malaysia have collaborated to organize this 3rd (IID) event together. The program serves as a platform to identify the students innovative products based on their research projects in universities or schools. Moreover, this event strives to enhance the participants, especially students creativity and innovative effort in a prestigious arena. The 3rd AICAD IID 2019 Jakarta, Indonesia also is a satellite event in conjunction with the AICAD 2019 Conference and Art Exhibition that will be held in Nagoya, Japan from 22nd November till 27th November 2019.
PARTICIPANT
Individual or Group
1. Between age:
a. Young Category – 13 to 17 years
b. Higher Institutions Student category – 17+ years and above (undergraduate or postgraduate)
2. For group participation, it can be up to 4 members maximum (exclusive of the supervisor)
3. Open/ Professional
AWARDS & PRIZES
All awards will be granted based on categories
• GOLD • SILVER • BRONZE
• 6 Best Of The Best (Based on the Field Studies)
• Emerging Inventor (Higher Institution's Student)
• Young Inventor (13 to 17 Years Students)
• Diamond Award
*All participants will get Certificate of Participation ( One certificate per
project participation with all members name on it). *The Award Certificate
will be given to the winner (Gold, Silver, Bronze, 6 Best of The Best (Based
on the Field Studies), Emerging Inventor and Diamond Award).
POSTER SUBMISSION
• Submission method – soft copy PDF. and JPEG
• Poster Abstract – in word. doc
• For invention poster format & rules , please refer to:
ll winner will be notify trough email or phone call by AICAD2019
committee 2 weeks before the awards ceremony.
FIELD OF STUDIES
• Publishing Design
• Branding Design
• Interaction Design
• Design for Social Impact
• Art and Craft
IMPORTANT DATES

INVENTION FEES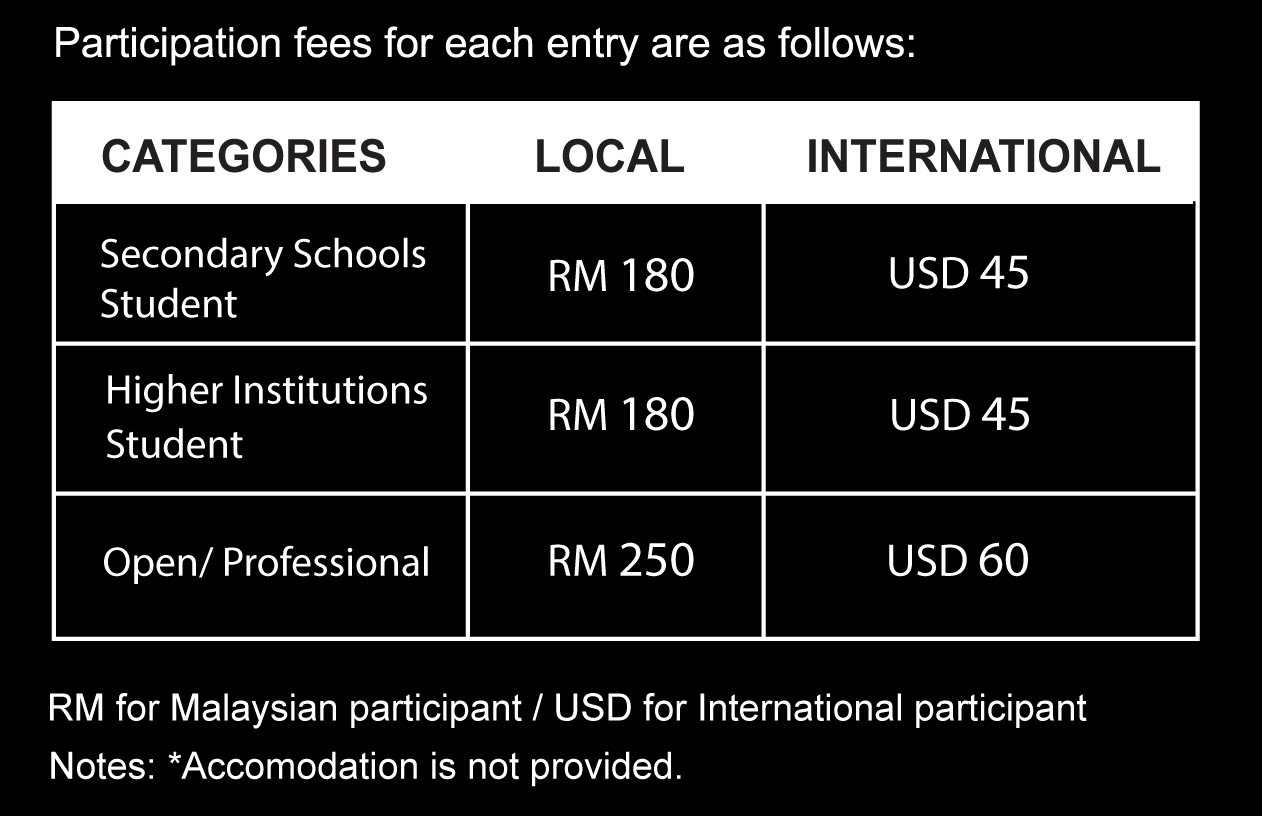 PAYMENT METHOD
Registration fees may be paid either by cash/cheque/bank draft/PO/postal order (in RM or USD). Payment should be made to:
Bank Account Name : Kumpulan Wang Amanah UiTM Perak
Bank Name : Bank Islam Malaysia Berhad
Swift Code : BIMBMYKLXXX
Bank Account No. : 08086010000577
Please take note on the following details for the payments:
a) The payment should be made in RM or USD only.
b) All payments made need to be accompanied by proof of
payment ( i.e.bank-in slip / copy of payment receipt) and email
to the Secretariat at [email protected]
c) For the participants who make bank transfer payment, kindly
send us the digital copy of your payment slip for our record by
email us at [email protected]
d) Payments via telegraphic transfers may subject to other fees
depending on the bank and please check with your respective
bank.
CONTACTS
VENUE
Universitas Multimedia Nusantara , Jakarta , Indonesia
Jl. Scientia Boulevard, Gading Serpong, Tangerang, Banten-15811 Indonesia
DOWNLOAD
• Official AICAD 2019 IID, Jakarta – Poster
• AICAD 2019 IID Registration Form